Boost the Results of Your Content Marketing With These 7 Tips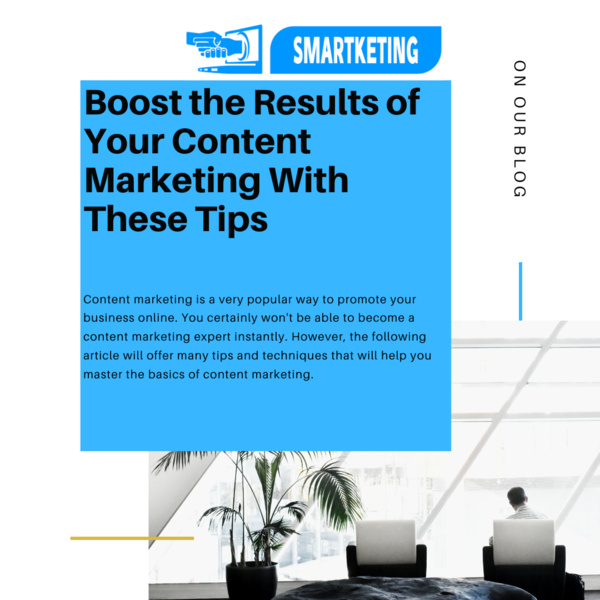 1. One of the keys to succeeding in your articles is choosing the right keywords to use. Avoid paying hundreds of dollars to find your keywords and use Google services to find keywords for free. Also, if you keep track of what works for your site, it will help you improve your results.

2. Be strategic when choosing the topics to cover in your articles. Sometimes you forget the knowledge you worked on at the start of your career.

3. Use directories to reference your promotional writing. First locate the best article directories online and publish your article. Once that is done, rewrite it with slight modifications to your ideas, then submit it to a different directory. This ensures unique content for all of your posts, which in turn will generate better results on the major search engines.

4. Social media are best friends with article marketing. Using your Twitter and Facebook accounts is a good way to obtain a number of important contacts and therefore also to convince more easily.

5. Unless the website hosting your articles has a policy of periodically deleting old content, your articles will still be available to Internet users. This longevity means that your tickets can direct traffic to your site for an undefined period of time. You can even use articles to promote your other articles to greatly expand your network and readership.

6. Your articles must be found if you want them to spread the word about your business. So you should submit your articles to different online article directories to increase your chances of being read, which is the goal of article marketing.

7. It may be best to outsource the writing of articles from your website to freelance copywriters who may be more qualified than you. Use only quality articles that provide relevant content, as poorly written articles can repel readers.

Here, in conclusion, keep your goals in mind and put into practice what you have just read. Now it's up to you to find the way, based on the previous ideas, to develop your own content marketing strategy.

If you are looking for a digital marketing agency specially dedicated to small and medium-sized businesses and the self-employed, do not hesitate to consult the website of our agency smartketing.ch and request a free interview with one of our "Smartketers" who will help you develop your online business and publicize your brand.