Our 9 tips to launch an effective content marketing campaign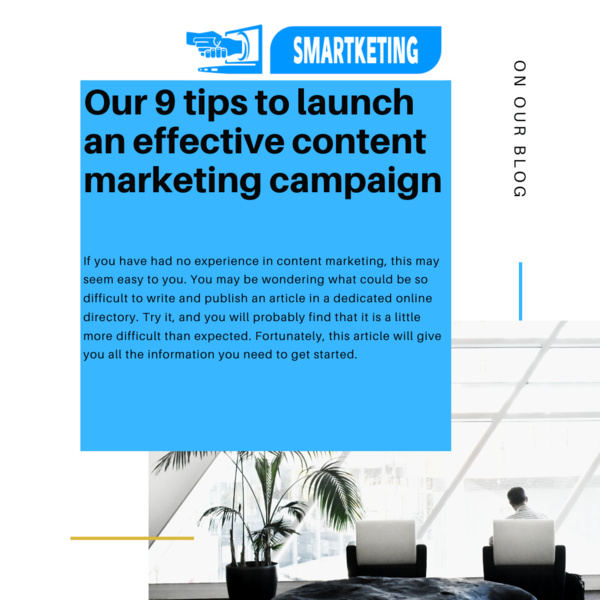 1. Are you lacking ideas for writing your next article? One easy way to fix it is to rewrite an old article from a different point of view. For example, if you write travel articles, try to target a subgroup in this niche. Use your article to provide helpful tips for families on the road, such as how to keep children occupied while driving. You may also want to give advice to seniors who want to travel. Present solutions in the articles you write, and your work will always be sought after.
2. Do a keyword research before writing your article. This consists of researching the terms most sought after by visitors in order to improve your positioning in search engines.
3. Try to use controversy to get more readers. Watch any TV news, and you will quickly realize that they are pulling each show with some controversy. It is not a coincidence. Whatever your political opinion, organizing this kind of debate will attract readers who want to express their opinions and also encourage them to share your content.
4. Look at the publications of other authors in your niche. Identify the themes that are already saturated in order to avoid them and focus on the subjects that are not covered enough and that you can develop further.
5. The content of your article must deliver value to the reader. The subjects you choose to deal with should answer his questions and teach him interesting and new things.
6. Long tail keywords are great for those just starting out in article marketing. Using this method, you will propel your articles to the top of the best search engine results. Long trains generate an average of 50 to 60 clicks per month!
7. To entice consumers to read what you publish, put together a catchy title for your publications. Your headlines must be engaging, they must convince the reader to wonder what is behind the headline. To get there, you can try to formulate a question with your targeted keyword.
8. Be interesting. If you don't bring that little something that will keep the reader entertained, they probably won't want to know more about your business or your offer.
9. Make sure to develop your SEO. Without quality SEO, your SEO within the search engines will be heavily penalized. To understand the usefulness of SEO, you need to understand that search engines strive to provide the best possible experience by combining the search query with quality content. So do your best to ensure the SEO of your content.
Here is the end of this article, your primary goal should be to identify your target audience and understand their online behaviors and habits. The same advice has worked for a number of people before you, why not you?
If you are looking for a digital marketing agency specially dedicated to small and medium-sized businesses and the self-employed, do not hesitate to consult the website of our agency
smartketing.ch
and request a free interview with one of our "Smartketers" who will help you develop your online business and publicize your brand.