Perry and Chad, why have you created this software?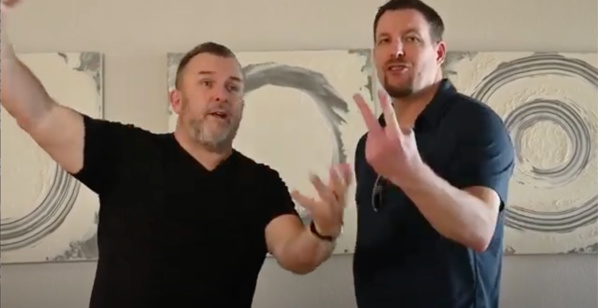 Perry Belcher: - I've been working with tons of affiliates at Clickbank. So I've been kind of the face of Clickbank affiliates. I've dealt with thousands and thousands and thousands of affiliates at Clickbank. And I realized their number one roadblock is technology. That's the one thing that I'd say, just build a little landing page here and you'll do this and they're like, what ? They really didn't know how to build a landing page. So I went to channel these guys can't even build a basic landing page and other people are out, They're promoting courses and stuff saying, Hey, you're gonna build landing page. So go over here and buy this $300 a month, big overkill thing. Right? So let's just build something that's wicked fast. And, what Chad did that I didn't even ask for, he made it perform wicked fast ! So all these pages are built in a new piece, a new platform and he could tell you all the Js things, whatever that he did to do it with, but they don't have to, they don't even have to refresh when you make a change to a page.

It's just instantaneous. Like it's on your desktop computer, your Photoshop or something. So it just takes a second to do that. They load wicked fast, less than a second.
Almost every paging public's loads in less than a second and gets a score for speed and a score for performance. And that's been all Mister Nicely over here. Uhm, but for me it's great we use it in our business now to just pump out, hey give me, instead of saying, hey, let's get the web guys to build this landing page. We'll build 10 landing pages in five minutes, so that we can split test one against another, and if you're in marketing and you're not giving people a lot of options in split testing your first guess. It's been my experience and I've been doing this for a long time. I'm 323 years old, I've been doing this for a really long time and my first guest is almost always wrong, right ? And I've been doing it a long time…

So your first guest is probably certainly wrong. Maybe you get lucky every now and then, but it's best to put out a lot of options for people, find out what they respond to, and you just can't do that if you have technology barriers. With PopLinks, you just don't have any technology barriers. It writes the headlines for you. It builds the pages for you.
It even builds the thank you page and the secondary pages for you.

You just gotta get down here, you know what I'm saying, and start using it. Um and you're, you're gonna be like, boom, it's to me, it's like using an Iphone, you know, you don't, you ever seen that operating manual that comes with an iphone ? It doesn't have one, right ? Because it doesn't need it right ?
It wasn't easy to do either.
​Chad Nicely, was it easy to develop the PopLinks platform?
-No, it's not. The hardest development to do in the world, is to build development that doesn't require really any learning curve. Does all the work for you. You're gonna be able to create stuff you could ever create before. The next, literally the next five minutes from right now, you're gonna be able to build all the landing pages you ever want to build with Thank you pages, with the stats, with everything that goes with it and we're gonna give you access to the CRM that ties that to your email service and all your global statistics and all those things like that. All for free. So you get all that free as a ride along with public.

I think it changes everything for you. We have a community too and we'd like you to participate in the community. A lot of things that we do in addition to software, we also have a lot of trainings and we do live events here in the Vegas area.
So there's, you know, you're kind of becoming a part of a community here. PopLinks is not just a piece of software, but um, I think you're really gonna like this. So let us know if you have any problems or any questions or concerns and please showcase the designs that you do because the last thing we no mention is you're gonna see stuff in this platform you've never seen before. With the Web, Two point O designs and the gradients and the backgrounds and the color overlays. I think you're really gonna be impressed.
You guys are going to create things will never think to create. There's so many of you guys out there, so I can't wait to let us let us know how you're doing.
How to get PopLinks and join the PopLinks Community for free?
Who is Perry Belcher?
Perry Belcher strolls the line between authority and ease of access like couple of others can-- bringing smiles to both hard marketing expert's board rooms, and that bar down the street. Exactly how does he do it? Well, maybe decades of experience as a master copywriter, yet possibly he's simply that kind of guy. You never truly know!
He's virtually a Jedi, concentrating on the digital sales side of the force.
That, and also he's likewise a very popular writer, with dozens of titles under his prolific belt. Seriously, the individual even has a real button named after him. It's called the Belcher Switch. Look it up! In a lot of words, Perry's a round of uneasy power with a lot to share.
If you're fortunate adequate to be in his inner circle, you 'd understand all about his great tales-- stories of development from the frontier of new media. Whether it's life-altering success or catastrophic failing, Perry constantly has a vibrant item of history for you. Oh, and indeed, he assisted design hand sanitizer.
See, we weren't joking concerning just how unusual the individual is. First, you have Perry as a businessman-- the kind who had actually obtain articles blogged about him in the Huffington Article But you also have Perry, the agreeable creative-- undoubtedly a brief cost his self-evident wit and charisma. If you ever before been in the same room as him, it's a reward seeing which side of his character plays out.
Keeping this kind of firm makes his existence a rather habit forming point-- leading the lot of us to scramble for a bit of Perry's office time. With all the knowledge he carries deal, every second's worth it, specifically when an easy tip can lead to guaranteed success in many cases.
His community has a riches of insight on marketing, sales, organization development, and individual development that you simply could not find somewhere else. Join our newsletter for regular updates from the man himself. You might additionally join our Facebook group for more in-the-moment smarts and humor, directly from the resource.
Now, it needs to be incredibly clear that Perry isn't cut from the exact same cloth as your stereotypical, smarmy marketing expert. Fairly the opposite, truly-- he seriously believes in encouraging you towards well-deserved success. Heck, he'll also acquire you a beer after.
Get more information on
Perry's website
Who is Chad Nicely?
Chad "The 60 Day SaaS" Man has actually developed and also marketed over a lots down as well as filthy SaaS software jobs. Chad puts the bootstap back in bootstrap with his leveraging as well as licensing of existing code and API blending to launch "Proof of Principle" SaaS products in 60 Days or much less.
Chad is also a Worldwide speaker, a product launch expert and really developed in the Las Vegas area. If you remain in the Las Vegas area you are motivated to fulfill Chad at his "Red Carpet Lunch." It is an event for business owners as well as influencers in the location. Along with that Chad likewise organizes the "Las vegas Marketing Top." Chad is committed to providing a "makeover" in the lives of those he deals with.
Chad began his online occupation in 1998, when the Internet initially came out. It was the AOL days. Ever since he has actually coached thousands of pupils all over the globe. He continues to release ingenious solutions that permit his students to live a life produced by their layout.
Get more information on
Chad's website
Read my other articles about the Poplinks Software Demo, review and launch by clicking the links below:
Poplinks.io Review (Beta Version)

PopLinks is going to be launched by Chad Nicely, Perry Belcher, and Simon Warner on October 13th, 2022. It is certainly going to be one of the 3 most successful launches of this year on JVZoo. But is this software worth the online buzz that is preceding its launch date? Read this review to make you an opinion.

https://www.le-blog-de-mathieu-janin.net/Poplinks-io-Review-Beta-Version_a764.html



PopLinks Launch on October 13th - Take part to one of the most successfull Mid-Ticket Launch of the year 2022
This Mid Ticket Introduce Fixes Among The Largest Problems In All Of Marketing Throughout Among The Toughest Economic Times We have actually Seen. Built On The Fastest Technology With Approximately $400 Per Sale With a $10,000 Prize Pool ...
https://www.le-blog-de-mathieu-janin.net/PopLinks-Launch-on-October-13th-Take-part-to-one-of-the-most-successfull-Mid-Ticket-Launch-of-the-year-2022_a765.html

Latest Interview with Poplinks cofounders Perry Belcher and Chad Nicely - Using PopLinks is like Using an IPhone

Read the latest interview of the two co-founders of PopLinks LeadPage Builder and discover why they have created the world's fastest LeadPage Builder with the same technologies used by Nasa, Twitter, Uber And Paypal.

https://www.le-blog-de-mathieu-janin.net/Latest-Interview-with-Poplinks-cofounders-Perry-Belcher-and-Chad-Nicely-Using-PopLinks-is-like-Using-an-IPhone_a766.html



Why you cannot miss the PopLinks Launch on October 13th 2022: Make Launches Great Again!

Learn directly from Perry Belcher and Chad Nicely, the two PopLinks co-founders, why attending the PopLinks Launch is certainly one of the best selling opportunity of the year for Affiliate Marketers all around the world...
https://www.le-blog-de-mathieu-janin.net/Why-you-cannot-miss-the-PopLinks-Launch-on-October-13th-2022-Make-Launches-Great-Again_a767.html

PopLInks Step by Step Demo - The best way to promote PopLinks is using PopLinks everyday

In this new post, we are going to talk about the newest and exciting software called PopLinks. And I'm basically gonna show you a step by step of how to use pop links and how you can use it to grow your affiliate marketing business to 10,000 and plus per month. Now if you haven't heard of Poplinks before, this is a new software that was developed by chad nicely and Perry Belcher. PopLinks will be launched on October 13th 2022

https://www.le-blog-de-mathieu-janin.net/PopLInks-Step-by-Step-Demo-The-best-way-to-promote-PopLinks-is-using-PopLinks-everyday_a768.html

Inside PopLinks Launch: Chad Nicely give you Full Details about the PopLinks Launch Strategy - OTO Details + Bonuses + Demo

Hey everybody! 6 hours before Lauch Day, Chad Nicely, PopLinks co-founder is giving to the world full details about the PopLinks Launch Strategy, details about OTO's, bonuses and demo. Watch & Register to participate to one of the most successfull software lauches of 2022...

https://www.le-blog-de-mathieu-janin.net/Inside-PopLinks-Launch-Chad-Nicely-give-you-Full-Details-about-the-PopLinks-Launch-Strategy-OTO-Details-Bonuses-Demo_a769.html


PopLinks Review Software Affiliate Center Full Review – Version 1.0
Individuals' interest spans are short, there are a lot of call-to-action, they pack slowly, most of them don't produce listings, as well as they're all out of date. And also with simply one simple inquiry, I can demonstrate it to you. When was the last time you checked out a site, gave your e-mail address, provided a telephone call, or took any other activity? I will certainly finish here. Yet do you recognize what will never pass away? Bridge pages and lead capture web pages ... In only one minute, you can construct ended-up LEAD catch as well as BRIDGE web pages if you can duplicate three lines of message. AMAZING BUT REAL! PopLinks is the system that all new users have actually BEEN DESIRING FOR! Want to know the details? Please discover more in my PopLinks Evaluation.
Get PopLinks Software Bundle Deal and save $700 on the Sales Funnel until October 18th 11:59 PST
Read this Poplinks Bundle Review October 2022 and Save massive money ($700) by purchasing one of the three different PopLinks Bundles - But Pay Attention To This:
ACCESS TO THE POPLINKS BUNDLE CLOSES ON October 18 - 11:59PM PST