Our 8 tipps to to succeed in your content marketing campaign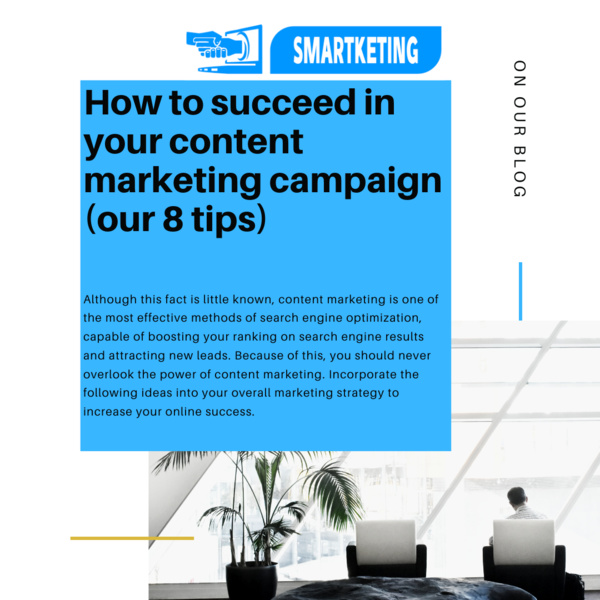 1. Be patient and remember that it takes some to be able to see substantial results from your content marketing campaign. Many people suffer from frustration when they realize the results are long overdue and decide to give up. Be patient !
2. Online article directories are very useful. First, submit your article to one of the most popular directory sites. Then rewrite your article by modifying its content a little before sending it to another online article directory. This way, each of your articles will have unique content and be better accepted by the search engines.
3. Use caution when using content spinning software. The quality of your articles will not be as good, which could damage your reputation. In fact, the time required to correct articles generated automatically with this type of software would be more than enough to create a good quality article.
4. Feel free to share personal information in articles you write to be original. Being honest with readers helps build a better relationship with them.
5. Find valuable and rare information to share with your readers. Doing research online is a good idea, but it is not always interesting. You will probably need to consult other sources, such as books.
6. Do you suffer from blank page syndrome? Search online for new events that relate to your niche to create new and current content. You can also use services that will notify you by email when there is news that may interest you.
7. If you conclude a contract relating to the sharing of your articles, make sure you understand the purpose for which your articles will be used and what are your rights relating to this sharing. In some cases, a site or directory may want to acquire all rights to your articles, and therefore you should know exactly what you are doing when entering into such an agreement.
8. Post regularly. When starting out, many marketers start by publishing every day or once a week, but soon lose their fervor and give up. Without a new publication, you risk losing the attention gained at the start and, at the same time, your readers. What you need to do then is to post regularly at least once a week.
Now that content marketing has no secrets for you, let your imagination run wild! The main thing is to combine emotions, content and formats.
If you want to outsource the creation of your content to a digital marketing agency specially dedicated to small and medium-sized businesses and the self-employed, do not hesitate to consult the website of our agency
smartketing.ch
and request a free interview with the 'one of our' smartketers' who will help you develop your online business and publicize your brand.