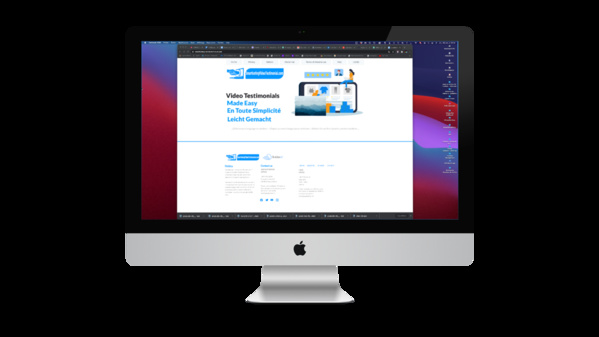 Tallinn/Montet (Glâne) 2021-01-28 - The Smartketingvideotestimonial.com platform allows businesses to request video testimonials from their clients using SaaS Technology. The client will then receive an email and they record a short response using their smartphone, tablet or webcam and click submit. The clip is then processed to produce a client testimonial featuring the business brand which can then be downloaded and used across social media platforms, websites, emails and client presentations, in fact anywhere where clients are seeking information about your product or service.
Founder Mathieu Janin, of smartketing.ch/smartketing.eu says : "We're delighted to launch this new service now, we believe it will be extremely useful in helping SME businesses rejuvenate as lockdown lifts. We are aware of statistics that 92% of people read reviews before purchasing and 88% of people trust online reviews as much as those of family or friends. The current statistics from ChannelAdvisor and Dynata show that two in five UK shoppers say that they will make more frequent online purchases once lockdown ends so now is a perfect time to launch.
We've been creating non broadcast video content since 2008 and have seen a huge shift in that time from those who thought video was a fad to now, where most of us carry a portable video recorder in the form of a smartphone in our pockets and we aren't afraid to use them. We have always encouraged clients to utilise the technology available to them wherever possible to deliver content with immediacy to their audience, much to the surprise of some customers. We want our clients to embrace video and our mission to make video affordable, achievable and accessible to all reflects this'.
Founder Mathieu Janin says, "I have been passionate about video and have worked in online video production for over ten years. I've witnessed a huge growth in video but I feel this will help make video even more accessible for small business. It will level the playing filed between Startup's, SME's and larger organisations with huge marketing budgets. We are still continuing with our other video production services and have been supporting several charities and healthcare providers communicate their Covid-19 messages but look forward to when we will be back to filming business profiles, events and conferences'.
Further information available online at:
https://smartketingvideotestimonial.com